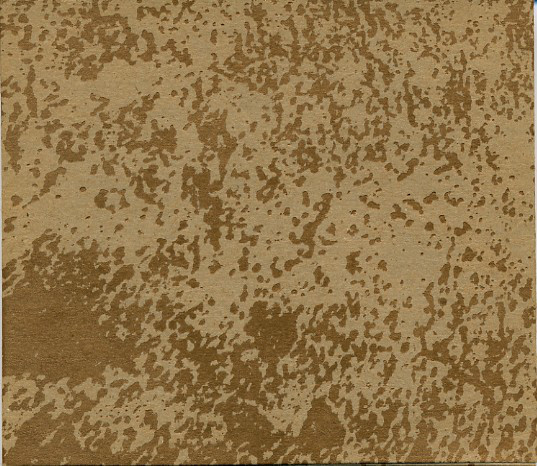 Faust
Rien
1995
Table of the Elements
[Chronium] TOE-CD/LP-24
Compact disc/180 g. phono LP, gatefold jacket, 24" x 36" poster, playing-card inserts, obi
"The first studio recordings in twenty years from the greatest artErrorists of all time." (1995)
From 1971 to 1975, Germany's Faust carved a megalithic reputation as the greatest avant-garde group of the era. Formed in the spirit of the May '68 uprisings, they inspired the term "Krautrock," influenced generations of subsequent bands, and to this day define an entire genre.
In 1994, Table of the Elements brought the reclusive Faust to America for the first time, taking them on tour and orchestrating their return to the studio. The result is Rien, the first studio recordings from Faust in over 20 years. With considerable contributions from producer and performer Jim O'Rourke, Faust have managed to create a record as unflinchingly audacious and uncompromising as their earliest work. An aggressive collection of electronic pastiche, musique concret, power tools and group improvisation results in an extraordinary return by one of the seminal experimental ensembles of all time.
"Rien is rattlingly contemporary, thanks to the production hand of Jim O'Rourke, who has taken the rudiments of Faust's adventurous spirit and transplanted it into a wholly modern context. The influence of this most exacting sound sculptor has effectively created something akin to a dialogue between the contrasting experimental apparel of 70's Prog rock and 90's purveyors of the Ambient aesthetic. There are industrial mantras of almost crushing intensity, neo-psychedelic jams, concrete interludes, even a passage of bittersweet irony in the plundering of Gorecki's Third Symphony (the additional chorale of Industrial noise serving only to heighten the tragic air of Gorecki's original). This is Faust resharpened and revitalized, no longer part of rock's dinosaur parade, but a reshaped, refreshing, challenging voice in 90's experimentalism."
The Wire
"O'Rourke vacuum-packs Faust's ear sabotage—rain-dance drumming, power-tool percussion, the crackle of gunfire—with such vivid energy that Faust sound less like a band than a living organism. In this rabid age of post-punk extremism, Faust seem quite at home, and Rien sounds very, very Now."
Rolling Stone
Faust
Faust Concerts Vol. I
1994
Table of the Elements
[Iron] TOE-CD-26
Compact disc, laser etching, die-cut and custom letterpress enclosures
From 1971 to 1975, Germany's Faust carved a megalithic reputation as the greatest avant-garde group of the era. Formed in the spirit of the May '68 uprisings, they inspired the term "Krautrock," influenced generations of subsequent bands, and to this day define an entire genre.
Here, Faust re-unite for their first concert in fifteen years. Recorded in 1990 at the Prinzebar, Hamburg, this disc documents the gamut of extremes for which they are infamous, ranging from overblown electronics to acoustic passages to a frenzied application of chainsaws and power tools.
"Faust do not just play rock & roll; they bring life to its darkest, most dangerous essence."
Rolling Stone
Faust
Faust Concerts Vol. II
1994
Table of the Elements
[Cobalt] TOE-CD-27
Compact disc, laser etching, die-cut and custom letterpress enclosures
With their use of industrial tools, construction materials, unusual sound sources and invented instruments, Faust's infrequent concerts are memorable, chaotic events. Here the group return to the site of their most notorious 70s appearances: England. Cheered on by an exuberant crowd at London's famed Marquee Club in 1992, Faust continue to delight and confound.
"Faust are essential, not just as a history lesson, but as a living legacy, and as a reproach to an underachieving age."
Melody Maker
Tony Conrad with Faust
Outside the Dream Syndicate: 10th Anniversary Edition Box
2002
Table of the Elements
[Lithium] SWC-CD-302
2x compact discs, poster, sticker, 16-page book, 96-page catalog, foil stamp, enclosure
Tony Conrad with Faust
Outside the Dream Syndicate: 10th Anniversary Edition
2004
Table of the Elements
[Lithium] SWC-CD-302
2x compact discs sticker, 16-page book, foil stamp
Double CD in deluxe, limited-edition packaging

Includes unreleased material from the original 1972 sessions

Digitally remastered for this release

Features new liner notes by Rolling Stone senior editor David Fricke
"Out-machines Metal Machine Music."
Creem

"Whether you heard it in 1972, or in the present time, it still kicks infinitely. At its most basic, this an early fusion of the classical and avant-garde with the more rock and pop sensibilities of the day, something not seen since the Beatles' Stockhausen riff, 'Revolution #9,'and scarcely since. It couples minimal tones with an almost James Brown-like bass-kick bottom and relentless thrust. The results are prodigious, prophetic, powerful. To this day there's still nothing quite like its primitive, otherworldly chug ... Together [Conrad and Faust] elevate into endless crescendos and cascades of holy sound, floating on an Om-like soundwave. Whether an initiate or a first-timer, this is something quite timeless."
Andy Beta, Luna Kafe
"Conrad invents a new musical language ... unbearably intense and gloriously ecstatic."
The Wire
"A terribly exciting, endlessly fascinating genre-bender ... absolutely exhilarating."
The Yale Herald
"Behold the glacier with an amplified pulse!"
Tower Pulse
"Monumental ... Just follow your bliss."
Philadelphia Weekly
"Top-5 Reissues of 2002."
Washington City Paper
"Top-10 Reissues of 2002."
The Wire
An old Zen koan comes to mind; delivered through the lesser hands of seekers and compilers, beats and Deadheads, the New Age-- but surely, I imagine, of wise and noble provenance somewhere back. A flag flapping in the gale sparks an argument between two monks on the nature of things. The first declares that the flag is surely moving. The flag is still, counters the other, it is the wind that is moving. Sure enough, where an insoluble paradox appears, the wandering master is not far behind. Which is it, ask the monks, is the flag moving or is the wind moving? Neither, replies the master; mind is moving.
Fair enough. Take it, like any wisdom, with a grain of salt, but it springs to mind. Not because Tony Conrad sees still air and a flapping flag, or because Faust occupy a world of volatile weather, but just because, for a moment in Outside the Dream Syndicate, one forgets what exactly is moving and what is standing still.
Here's what we know: in October 1972, at a hippie commune in WŸmme in southwestern Hamburg, a German art-rock collective bred on the stringent drone and skag-pop of the Velvet Underground hooked up with the young composer who gave that band its name-- or rather, who handed Lou Reed the sadomasochism exposŽ whence the band derived its name. Tony Conrad and the members of Faust collaborated for three days on an album that would be released the following year in England and would tank immediately thereafter. The musicians did not communicate or collaborate throughout the following two decades.
Minimalism is unquestionably the wrong word; I prefer asceticism. Anyone familiar with the Zappa-like hysteria of Faust's first album or the searing kosmische of IV must imagine the sheer force of self-denial at work in implementing Conrad's vision: to have a deep base note tuned to the tonic on Conrad's violin and to have the drummer "tuned" to a rhythm that corresponded to the vibrations. Minimal in design, I suppose, but catastrophically huge in execution.
"From the Side of Man and Womankind" opens in dead motorik, the usually nimble percussive battery of bass guitarist Jean-HervŽ Peron and drummer "Zappi" Diermaier, stalled out to a hollow thud-- like the heartbeat of a machine. Conrad's violin bleats mournfully, endlessly; rising, breathing, sighing, screaming, but without ceasing: relentless. Faust resisted. Peron's second bass note, inserted against Conrad's wishes, adds a spring and thrust to the proceedings. Zappi's odd cymbal crash shatters like punctuation in a prayer. Faust producer Uwe Nettelbeck dulled the serrated violence of Conrad's violin, somehow rendering slow murder into long caresses. "The Side of Man and Womankind" runs like a conveyor belt through fog: going without moving, advancing, standing still.
"From the Side of the Machine" is oddly less mechanical than its counterpart. A half-hour in length, like "Man and Womankind", the "Machine" side ruminates with muted psychedelia: serpentine bass, ceremonial percussion, the purr and roar of Rudolf Sosna's humming synthesizer, Conrad's violin passing high above like an electrical storm in the upper air. There is a predatory quality to the "Side of the Machine": an encircling peril, a certain restlessness above and behind. Mind moves, as if hunted.
The Thirtieth Anniversary Edition of Outside the Dream Syndicate adds a second disc of material. Two brief tracks-- both named with the young death of former Dream Syndicate comrade Angus Maclise in mind-- offer the remaining fragments of those three days at the abandoned schoolhouse studio at WŸmme. Both the slow burning "The Pyre of Angus was in Kathmandu" and the tremulous "The Death of the Composer Was in 1962" reveal a looser agenda in the sessions. In the latter piece, Conrad abandons the impassive drone of the first disc for an almost celebratory psych-rock. The second disc is rounded out by an alternate production of "From the Side of Man and Womankind", lacking the overdubbed violin lines of the album version.
So perhaps a little Zen, perhaps a little cataclysm. After all, as Lou Reed said, "It's the beginning of the New Age." And a few decades before that, a poet ended his long flirtation with Buddhism by joining the Church of England. In his conversion poem, however, he continued to pray with eastern paradoxes. "Teach us to care and not to care," T.S. Eliot intoned, "teach us to sit still." And this album finally begins to show us how.
Grayson Currin, Pitchfork Media
Tony Conrad with Faust
Outside the Dream Syndicate ALIVE!
2005
Table of the Elements
[Cadmium] TOE-CD-48
Compact disc, print, foil stamp, stickers
Minimalist pioneer Tony Conrad and notorious krautrock progenitors Faust met just three times: in the studio to record the groundbreaking "Outside the Dream Syndicate" in 1972, and twice on the concert stage in the mid-1990s. This recording documents their third and final encounter, at Queen Elizabeth Hall, London, February 18, 1995. The difference between the original session and this live event is astonishing. While Conrad's aggressive string sound was tamed in the studio by producer Uwe Nettlebeck (Conrad has complained that the mix made him "sound like a hippie"), here it is full of menace and ferocity, and in tandem attack with the equally belligerent violin of Jim O'Rourke, it conjures a raging wall of sound. When the Faust rhythm section finally kicks in, no one is in the mood for restraint, and the whole thing bolts on a merciless, scorched-earth gallop. Bassist Jean-Herve Peron plays with such fury that he snaps a string (no easy feat on a bass guitar), shreds the flesh on his fingers, and is soon covered in blood; meanwhile drummer Werner "Zappi" Diermaier pounds away, standing, in his inimitable, robotic style. After a relentless 40-minute onslaught, Peron signals the set's abrupt conclusion by smashing a brick with a sledgehammer, while Diermaier destroys his drum kit a la Keith Moon. At this point the elegant atmosphere of Queen Elizabeth Hall thoroughly disintegrates, and the antagonized crowd nearly riots. Hecklers and supporters continue to shout each other down -- until they're drowned out by a rollicking encore.
The booklet contains brief interviews with Conrad and Peron, and a first-person account from Gang of Four's Andy Gill, who sounds justifiably intimidated by the entire performance. The packaging includes alternate photos from the 1965 photo-booth strip that graced the original studio release, plus stickers and a silver foil stamp.
"A large curtain of scrim hides half the stage. In front of it, two men stand motionless, one a barefoot bassist, the other a balding drummer standing, Mo Tucker-style, behind a drum kit which, in the intervening 20 years, has shrunk to just one snare, one tom-tom and one cymbal. Behind the scrim, backlit so his shadow looms hugely, is Tony Conrad, the minimalist-violinist with whom Faust once recorded an album entitled Outside The Dream Syndicate. A cellist and another violinist sit alongside him, also motionless. Conrad plays a chord, then keeps on playing it, a piercing, mesmeric drone of immense, ear-endangering volume. Some time later — about 10 minutes into the performance — the other string players join in with similarly minimal intent, setting up a static harmonic drone which continues for another 10 or 15 minutes before the bassist and drummer suddenly launch into the kind of riff which Status Quo might have discarded as being too basic. The drummer bangs each drum alternately at regular tempo, looking for all the world as if he's jogging on the spot; the barefoot bassist, meanwhile, pummels his instrument with such singleminded fury that, shortly after he begins, one of the thick, well-wound strings has snapped. Have you ever tried to snap a bass string? It's not easy. Usually, you need pliers, but there are no tools available on-stage tonight. "
Andy Gill, Mojo
"…Conrad masterfully created a piece that no matter when it was produced evokes such a strong physical reaction. This is raw, building, blistering, pounding, droning brilliance! The way momentum keeps building works its way into your body and about half way into the piece you can't stop from getting completely wrapped up in it. The droning violin, the dirty percussion, the gut wrenching passion underneath and above it all!
It's amazing how in these sounds you can hear so much of a handful of contemporary favorites: Godspeed You Black Emperor's explosive drama, The Dirty Three at their most wild and rocking, Swans/Angels Of Light's blistering poignancy, but it all ends up seeming sorta like little league in comparison to the blood and guts that oozes out of this performance. As always Table Of The Elements appropriately package the cd with the care it deserves including some nice short conversations with Conrad and two great stickers of Conrad's face. Absolutely recommended!"
Aquarius Records
"Apparently minimalist pioneer Tony Conrad and notorious krautrock progenitor Faust only ever met three times; once in the studio whilst recording 'Outside The Dream Syndicate' and twice onstage during the 1990's where they brought that album to life in the live arena. A recording of their third and final encounter, 'Outside the Dream Syndicate Alive' was taped at Queen Elizabeth Hall London on February 18th 1995 and acts as an astonishing diktat on the raw power afforded by the live arena. Worth owning for the blazing row that ensues between members of the audience after the show finishes alone (choice putdown: "shut the fuck up you middle-class prick"), 'Outside the Dream Syndicate..." is pretty hard going; with Conrad's aggravated strings gnawing at Jim O'Rourke's equally gobby violin, whilst Faust's rhythm section is typically merciless. Closing with a brick being smashed by a sledgehammer, this is not for the delicate hearted; but for those who relish a live experience that extends beyond over-priced T-shirts and spilt Stella, then 'Outside the Dream Syndicate...' is a thrilling experience."
Boomkat
"It's amazing how in these sounds you can hear so much of a handful of contemporary favorites: Godspeed You Black Emperor's explosive drama, The Dirty Three at their most wild and rocking, Swans/Angels Of Light's blistering poignancy, but it all ends up seeming sorta like little league in comparison to the blood and guts that oozes out of this performance. As always Table Of The Elements appropriately package the cd with the care it deserves including some nice short conversations with Conrad and two great stickers of Conrad's face. Absolutely recommended!"
Amazon
Jim O'Rourke
Tony Conrad
Richard Youngs
Faust
Keith Rowe
untitled ("Nickel")
1995
Table of the Elements
[Nickel] TOE-SS-28
7" single, hand-etched vinyl, poster, cloth sleeve, silkscreen, poster
In the summer of 1995, Table of the Elements toured the U.K. and U.S. with these five artists, in various combinations. This single was pressed in an edition of 250 and given away for free at the shows. The A-side has five tracks, edited end-to-end by Jim O'Rourke (some recorded by O'Rourke and/or Steve Albini); the B-side is etched by hand and has details about the tour. The sleeve is cloth and silkscreened. The track from Faust was their first release of new studio material since the 1970s.
"This free record is for everyone who supported our live events in London, Manchester, NYC, Hartford and Chicago during February and June, 1995."
Tony Conrad Collection no. 5
AMM (UK)
Tony Conrad (USA)
Faust (Germany, First US appearance)
Gate (New Zealand)
w/ Michael Morley + Lee Ranaldo, Thurston Moore, Steve Shelley
Keiji Haino (Japan)
Thurston Moore and Friends (USA)
w/ Thurston Moore + Tim Foljahn, Steve Shelley
Zeena Parkins (USA)
Jim O'Rourke (USA)
Manganese
Table of the Elements Festival no. 1
Table of the Elements
Tula Foundation
April 23—April 24
1994
[Manganese] TOE-25
Tula Atrium (Georgia Museum of Contemporary Art)
75 Bennett St. NW
Atlanta, Georgia
Two-day tickets: $25.00
Producers: Jeff Hunt and Kris Johnson
It's easy enough to make romantic claims for an artist like Tony Conrad. He's one of those guys. Ur-Sixties. Quintessential cult figure. Resident outsider. Rebel angel. The minimalist who came in from the cold. He's got the kind of immaculate credibility that can't be bought and can't be sold. [And how else, otherwise, could he have persevered?] Rumbling under the cultural radar since the Kennedy Era, Conrad is at once first cause and last laugh, a covert operative who can stand as a primary influence over succeeding generations, while pretty much conducting most of his business in obscurity. That is, until about 10 years ago, when the Table of the Elements label finally blew his cover for good. And because he'd kept such a low profile, when Conrad did pop up, the impression made was a good deal more spectacular by sheer dint of surprise. Who, exactly, was this guy? It was an unusual weekend in Atlanta, Georgia, when people began to ask—again. Conrad was having one of his first "coming out" parties, and despite some of the odd circumstances, it could not have been staged more memorably. The Manganese Festival, which doubled as a kind of avant-garde debutante ball for Table of the Elements, went down April 23 and 24, 1994, at the exact same time as Freaknik, the "spring break" for students from the circuit of predominantly black colleges. Atlanta became an urban version of Daytona Beach for three days, with traffic grid locked, boom boxes shouting, and provocatively ample derriere-shaking for mile after mile along Peachtree Street—the main stem that runs into the heart of "The City Too Busy To Hate." The festival was sequestered in a complex of art galleries off an industrial side street intersecting Peachtree (and thus, cut off in such a way that anyone who managed to drive in could not possibly hope to drive back out until the traffic jam subsided many, many hours later). This was ideal, for anyone hoping to maximize the singular nature of the experience. You could check out any time you liked, but you could never leave. Perfect for a first encounter with Tony Conrad. He cut a curious figure, Tony did, in his bowler hat and his shorts, prowling the premises with a video camera, documenting the goings-on as if at some family reunion. In a sense, it was: The gathering tribes included Thurston Moore, Lee Ranaldo and Steve Shelley from Sonic Youth, electric harpist extraordinare Zeena Parkins, avenging Japanese guitar hero Keiji Haino, the anarchic artistes of Faust—Conrad's long-ago collaborators on "Outside the Dream Syndicate"—and the then-unknown, now-ubiquitous wonder boy Jim O'Rourke. Pioneering British improv trio AMM was in the house, as was New Zealand's rare-to-such-shores Gate. This was an unusual assortment of performers, a Lollapalooza for fringe-dwellers, and a model for further electrical storms—such as the All Tomorrow's Parties festival—that would light up the skies into the new millennium. By the time Conrad finally came to perform, sandwiched between the jet-engine decibel bath of Haino and the ritualized freak-out of Faust, even those not in the know were primed for a paradigm shift. The city was in a gridlock, as surely as if suffering a collective panic attack or celebrating a coup d'etat. What better moment to pump up the volume, and tune in to those strange frequencies.
Excerpt from "Tony Rocks"
Steve Dollar
New York City
March, 2003
Interview: Tony Conrad and Jean-HervÉ Peron, 2004
TONY CONRAD: I basically said, "Keep an even beat going throughout the whole thing," which is almost impossible. When I worked with Faust, I told the bass player this, but they didn't believe me. They don't even remember working with me. When it all came back recently, they had no recollection at all of working with me. I think they knew the record existed, somehow Uwe Nettelbeck had sucked it out of them. There were probably many reasons for that, including the fact that somebody must have been burning a pot field around where they were working, because there was so, so much pot smoke in the air. It was incredible. And who could remember anything under those conditions. I told them that they should just keep the beat steady, but when you play like that for a half-hour, it's really unbelievably difficult and painful. Like when we played at Queen Elizabeth Hall in London, Jean was playing with great fervour. I said, "Let's play for 50 minutes." The set broke down and we stopped early, and he came back and he was very excited, and he showed how his fingers were bleeding. He was ready to play more — the flesh was actually stripped off his fingers, (laughs) it was a nightmare, I couldn't believe it was happening.
Q: Why and how did the collaboration with Faust come about? Why did you choose them? Were you aware of their music?
TC: I was approached by a filmmaker in New York, who was aware of my music, who was from Hamburg, and he told me that he knew a producer who would be interested in me, and that maybe we could make a record. So we set up a date, and as a matter of fact, at the time I had been working as an electronics technician for a small company that was planning to send me to Paris. That was because I was good at sales, and we were going to have an expo in Paris. But then the kid who owned the company got his college roommate to learn the electronics instead of me boning up on my French, and his roommate went and I stayed at home. So I quit, and decided to go to Europe anyway. La Monte had been commissioned to do a room for [large annual German art show] Documenta in '72 and he hired me to be his engineer. So I did that, and when I was finished, I showed my films around, and went to Berlin, because I had, something more than a decade earlier, spent half a year bumming around in East Berlin, and I had all of these friends from this very strange scene, which is now part of some history that is so weird and gone that no one will ever understand how strange it was. But it was the most extraordinary situation I was ever in in my life, and I wanted to go back and hang out with my friends in East Berlin. And after I did that, I flew to Hamburg, and was met by Uwe Nettelbeck, who took me to this farmhouse, and there were these people hanging around out there, I didn't know who they were. [laughs] It was these people Faust. And they had been, to some substantial degree, incarcerated in this farmhouse for months, and they had their partners and sexual liaisons and different social complexities enacted on a long-term basis within this farmhouse. It was a microcosm, where everything seemed to have been evolving in some strange way over the course of months and months. It was no wonder that they really didn't really have a lot of involvement with me, and I thought of them as musicians that I could use in my record. But Uwe said that they wanted to do stuff too, so we did one that was my style, and one that was more like a rock 'n' roll style. That's how there are two sides.
JEAN-HERVÉ PERON: Ohh Tony! The Queen Elizabeth Hall gig was quite something! I thought it lasted longer than 50 minutes though. Time is relative said Einstein and can be bent. Zappi and I (and Tony) agreed that I would stop the piece (someone had to stop it you know or else we'd just all dehydrate on stage as no one would dare stop it it first) and the sign was me hitting a cobblestone with a sledge hammer (just to make sure no one could incidentally overhear it), and that was my main concern during the whole show even when I lost my plectrum in the first five minutes and realized I did not think of a spare one; even when I broke the E-string on my bass; even when I saw blood dripping at my feet. The idea of this small, square, hard, granite stone and this small, hard, steel head and me, me being as the vector of a perfect trajectory ending with a clean impact and hundreds of people watching this... Oooh Tony, what if I miss? What if I miss?! This obsessive idea helped me through the whole show. The violins and the cello were burning their high-pitch ferociously equalized tones in my brain, Zappi was sweating his wild dog-sweat and the stone just laid there, waiting patiently for its fortune. That's why I was so excited, at the end... Because it stopped... Because I did not miss.
Q: I was at the QEH gig and it really was an extraordinary experience. I'm sure it was more than 50 minutes as well.
J-HP: A strange thing began to happen after about 15 minutes where the way your ears work seemed to change; it's hard to explain exactly but several people I spoke to felt the same. A few years later I spoke to Zappi about the gig and all he said was "I think it was very loud" — as indeed it was! I remember Jim O'Rourke and Tony fiddling at the mixing desk with a look in their eyes, which was a mixture of anger (the sound man did not meet their wishes obviously), amusement, mischief and insanity. The fact that people had the feeling that "something changed" is probably purely morphological: The great Lord designed our ear system with a "limiter" so whatever comes to our ears and exceeds whatever the Maker thought intolerable will be cut off. Our ears close! Yeah, Hallelujah, that's high-tech, that is love, that is a wonder, and it is good.
Courtesy Andy Gill, The Faust Pages